Rate this article and enter to win
Moving much? Ninety percent of university students say physical activity makes their life better (two-thirds said much better), according to a recent Student Health 101 survey. Consistent physical activity means more energy, better mood, and less stress. But research shows that many of us struggle to be active through life transitions—like going to university.
Good news: Students who believe they can make it happen are more likely to be active, according to a 2015 study in the Journal of American College Health. How can you build faith in your own intentions and goals? Behavioural research shows us: Incorporate what works for you, keep your goals realistic, and create a specific plan that anticipates likely obstacles.
Student Health 101 joined up with Caitlin Doyle, a university fitness trainer and training coordinator, to guide three students through this process. In half an hour, you can make your own fitness plan and set yourself up for a dynamic, low-stress semester.
| | |
| --- | --- |
| | Caitlin Doyle, BScKin CSEP CEP EIMC, is the Strength Centre and Training Coordinator at Recreation Services, University of New Brunswick. |
We all want to stay active—what hurts and helps?
Students know the value of planning their physical activity
In our summer survey, two out of five returning students said they had already planned their fall fitness schedule. Close to that number of students were actively planning it. Most of the rest said they hoped to be physically active through the fall semester, but hadn't yet figured out what that would look like.
Why planning is important
For many students, starting college or university comes with a drop-off in physical activity, research shows. That's the biggest reason why some students struggle to maintain their fitness and manage their weight through school, according to a 2016 study in BMC Public Health.
What gets in the way?
With so many demands on students, physical activity tends to fall off their to-do list, says a 2015 study in the Journal of American College Health. In our survey, two out of five respondents said aspects of student life (most frequently, assignments and tiredness) made it difficult for them to be as physically active as they'd like.
What helps?
On the other hand, almost half the survey respondents said access to fitness resources (such as the university rec centre) made physical activity easier. Peer influences were also helpful, students said. This aligns with the research. The physical activity habits of college women tend to carry over to mid-life, and the "supportive social atmosphere" of school fitness programs is likely a key factor in setting students up for long-term success, according to the Journal of Exercise Physiology (2009).
Source: Student Health 101 survey, May 2016; 1,500 responses. This survey is not representative of students nationally.
"Working out is awesome, but I don't feel like doing it all the time"
Shanshan Y.
Third-year graduate student
University of Regina, Saskatchewan
"I love running around the lake, weight lifting, and playing volleyball. Spending 30–35 hours a week in lab and class means it's hard to get in exercise, but when I do, it ends up helping me; I come home with more energy and focus to get my work done. The thing is, sometimes I feel lazy and would rather stay home watching The Ellen DeGeneres Show or Cash Cab."
My strategies
Switch it up
Ink it onto my calendar
Find a workout buddy
Caitlin Doyle
"Enjoying being physically active is half the battle. Just 30 minutes of exercise can trigger endorphin release, which improves the brain's ability to prioritize and concentrate—and that's a great motivator to work out. While it's easy to get stuck in a rut and go through the same mundane activities, variety allows your body to avoid a plateau."
My best moves to get moving
Here's what works for me:
Switch it up "Trying something new will encourage me to keep active. This semester, I want to learn to swim and play basketball."
Ink it onto the calendar "I'll make a [workout] schedule; seeing it in writing helps me adhere to it."
Find a workout buddy "Having a partner helps me—especially someone with the same interests as me, like running or basketball. If I'm feeling lazy, my friend will call or email me, and vice versa."
So here's how I'll get moving:
I'd like to say I'll work out every day, but 4–6 times a week seems manageable.
Beginners' basketball program: two-hour sessions, three days a week. I've recruited a friend to join me.
Two yoga lessons a week.
I'm determined to do my favourite lake run on weekends.
Running is the most strenuous, so I want to make it a priority. If I get too busy, I'll spend less time on basketball and yoga but continue running.
"New things are always attractive to me. I have never been on a basketball team or had yoga lessons before, and this plan will bring about fresh ideas, which make me feel less stressed. I'm excited to get started."
ALERT! Support from others is key to developing healthier routines. Tracking your workouts and progress also helps maintain motivation.
"Recovering from injury forces me to go slow"
Karl J.
Fourth-year graduate student
University of Lethbridge, Alberta
"For me, exercise is about pain relief and healing. I busted my back last year, which means I have a cane and can't work out the way I used to (like going mountain biking). I started seeing a physiotherapist, which has allowed me to walk again. However, physio isn't cheap (neither is mountain biking). And sitting in a seat all day causes the worst posture and damage to your spine, hips, and legs."
My strategies
Take it slowly
Keep a budget
Plan accordingly
Caitlin Doyle
"Injuries can be discouraging. Having a goal, like doing the things you enjoyed before, is a great way to keep yourself motivated. Bouncing back takes time and dedication, and pushing your body before it's ready can increase your risk of re-injury. Setting small goals and progressing gradually will keep you on track."
My breakthrough training plan
Here's what works for me:
Take it slowly "Going slowly and steadily is important; even walking too far could cause a flare-up. To be careful, I may build up a program incrementally."
Plan accordingly "I'll set aside even just 15 minutes a day and map out how I'll fit in exercise each week."
Keep a budget "The workout program my physiotherapist designed involves using bands in my living room, which gets you a full body workout. Every student should have one of these if they're on a budget. Also, my campus provides free fitness services."
So here's how I'll get moving:
I would like to bike again. Little by little, I'll work to reach this goal.
Monday mornings I have physio to evaluate my progress. I'll use upper body resistance bands and do my stretches Mondays and Thursdays.
Tuesdays and Fridays are for lower body resistance bands and stretches.
On Wednesdays, I'll jog in the park for five minutes. Each week I'll increase it.
On Saturdays, I plan to do a special type of yoga class specific for rehabilitation from my injury. I can sign up through the yoga club, a free drop-in club at the university. I'll switch that with a swim every week, going slowly and testing myself against my own time.
Sundays will be my rest day.
"Physical activity helps me work towards becoming stronger and back to where I was before I was injured. I feel it's important to set goals that are both realistic and allow you to plan in advance. For example, me getting 'back to normal' in three weeks probably isn't a realistic goal. But with consistent small-goal achievement, perhaps I will get there in a year."
ALERT! The clearer and more achievable your goals, the higher your probability of attaining them. If you're rehabbing after injury, get guidance from a qualified professional.
"Varied workouts rock—varied schedules, not so much"
Sonya M.
Fourth-year undergraduate
Northern Illinois University
"Physical activity makes me feel strong and agile, free yet in control. I strive to look forward to working out, and I do that by finding variety. The challenge is that every day is different. Things are constantly popping up, in between nursing school and clinicals."
My strategies
Find a workout buddy
Work out early
Work out at home
Caitlin Doyle
"Social interaction makes exercise even more enjoyable, especially when your friends' goals align with yours. But sometimes your plans may not happen—and that's OK. Instead, use the time to do something else you enjoy (take your dog for a walk, find a fun exercise routine online, etc.). Any activity is good so long as you're moving your body and enjoying it in the process."
How I'm going to rock it
Here's what works for me:
Find a workout buddy "Having a friend or family member hold you accountable really helps with motivation."
Work out early "I find it a chore to keep thinking about my workout later in the day."
Work out at home "When I'm strapped for time, I'll find a blood-pumping workout video on YouTube or Pinterest."
So here's how I'll get moving:
I'll recruit a friend to try a new class at the rec. centre once a week.
I'll check my changing schedule each week and reserve 2–3 days for morning weightlifting or cardio at the gym, before I head to clinical.
In nice weather I'll take my dog for a jog or bike for 30 minutes; in rain or cold I'll search for a fun online workout video.
On weekends I'll practise advanced yoga for 20–60 minutes (it's easy to lose track of time, since it's my favourite!).
"Switching the environment and variety of my workouts will help me stay interested. And waking up early will guarantee I get my workout in for the day, so I'm not fretting about it later."
ALERT! Are morning workouts realistic for you? Many students are night owls. How can you make physical activity convenient and enjoyable for you?
---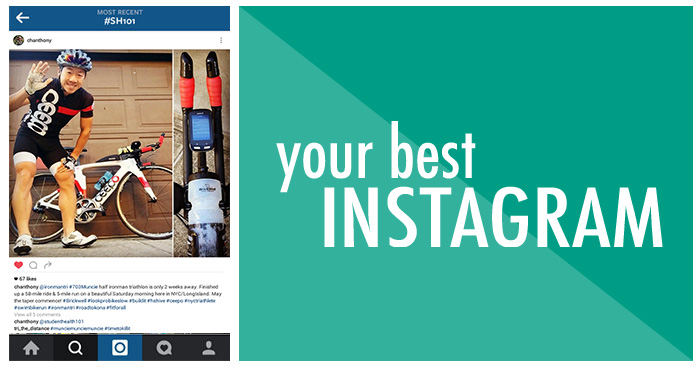 "I plan to stay fit this fall semester by training for the an event in Hawaii. Lots of swimming, cycling and running will be involved as I prepare for the race!"
—Anthony Chan, graduate student, St. John's University, New York
Follow us on Instagram and don't forget to use the hashtag #fitforfall
Article sources
Caitlin Doyle, BScKin CSEP CEP EIMC, Strength Centre and Training Coordinator, Recreation Services, University of New Brunswick, Fredericton.
Crozier, A. J., Gierc, M. S., Locke, S. R., & Brawley, L. R. (2015). Physical activity in the transition to university: The role of past behavior and concurrent self-regulatory efficacy. Journal of American College Health, 63(6), 384–385.
Godman, H. (2014, April 9). Regular exercise changes the brain to improve memory, thinking skills. Harvard Health Publications. Retrieved from
https://www.health.harvard.edu/blog/regular-exercise-changes-brain-improve-memory-thinking-skills-201404097110
Hultquist, C. N., Duckham, R., Stinson, C., & Thompson, D. L. (2009). College physical activity is related to mid-life activity levels in women. Journal of Exercise Physiology, 12(4), 1–7. Retrieved from https://www.asep.org/asep/asep/JEPonlineAugust2009Hultquist.doc
Kemmler, W. (2016, January). Impact of exercise changes on body composition during the college years: A five-year randomized controlled study. BMC Public Health, Retrieved from https://bmcpublichealth.biomedcentral.com/articles/10.1186/s12889-016-2692-y
Kwan M. Y., Cairney J., Faulkner G. E., & Pullenayegum, E. E. (2012). Physical activity and other health-risk behaviors during the transition into early adulthood: A longitudinal cohort study. American Journal of Preventive Medicine, 42(1), 14–20.
Student Health 101 survey, June 2016.